The 5 Letter Word that is Critical to Foster a Healthy Organizational Culture (Part 2 of 4)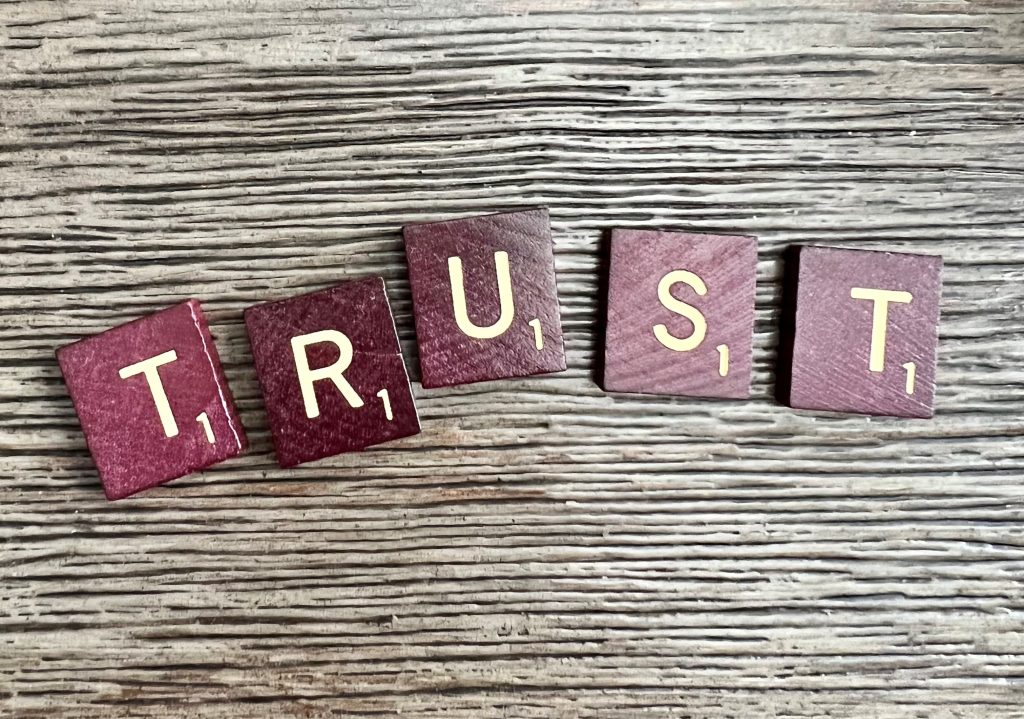 The 5 Letter Word that is Critical to Foster a Healthy Organizational Culture
Part 2 of a 4-Part Series
by Doni Landefeld, Ph.D.
Advanced Certified Personal and Executive Coach
Certified Positive Intelligence Coach
EQ-i 2.0 and EQ360 Certified
March 2023
It can take months or even years to create and poof… can vanish in mere seconds. Similarly related to an individual's or organization's reputation, trust is a concept that takes considerable time to establish. And yet, one [emotionally unintelligent] act can erode all the effort and deposits that were made to build trust. Many CEOs and organizational leaders I've consulted believe they've established a high level of trust within their organizations, yet sometimes it's obvious to me that they are either in denial or living in a vacuum when I work with their teams who are 'afraid' to contribute or heaven forbid, challenge the status quo because they're inspired by an idea that could possibly help the organization to innovate and grow. Rampant turnover is another sign that trust might be compromised or deficient. Trust is the most critical foundation to foster a thriving organizational culture. It is essential for motivation, employee engagement and job satisfaction – all tangibles that are positively correlated with a strong, healthy bottom line. The good news is trust is something that can be nurtured and repaired with the right strategy.
Trust is established when leaders create a safe place for people to be transparent and authentic, admit to mistakes and shortcomings, and feel supported and cared for by one another. The 'currency of exchange' for establishing trust is vulnerability. Conversely, the absence of vulnerability erodes trust and lack of applying is where many C-suite execs derail.
It's no secret I'm a proponent of the Positive Intelligence™ model for developing highly effective leaders and teams; and having gone through the program myself at the height of lockdown during the Pandemic, I experienced the transformational power. That led to getting certified more than two years ago, and now I strongly encourage [hint- require] all new clients and teams to establish this foundation before a segue into Emotional Intelligence.
The Positive Intelligence Model™ incorporates best practices from Organizational Development masters including Dr. Brene Brown, Patrick Lencioni, Dr. Martin Seligman and more. And what I love about the PQ model is the simplicity and thoroughness in its 4 pillars for creating high-powered teams. Here are the four pillars.
Triple Purpose (we covered this pillar last month)
Earned Trust
Healthy Conflict
Mutual Accountability
This month we unpack Earned Trust with the qualifying word "earn" being of utmost importance. Here are a couple of examples, both personal (one work-related and the other home-oriented):
Personal Home Example – Ten years ago, I rescued my dog, Nori. I fell in love with my Nori even before I met her when I saw a picture of her doggy smile and true essence in an online photo. When we visited her at Florida Brittany Rescue a few days later, she was a scared and timid pup, yet something told me there was lots of love suppressed in this girl. We took her home and it became clear very quickly that she was damaged goods; someone, maybe the negligent breeder did something to violate trust and this little girl cowered in a corner whenever the doorbell rang and even ran away a couple of times from being spooked out of her skin. I wasn't sure we would be able to keep Nori; many times she'd scare from something, jump up on a piece of furniture and have an accident. Fast-forward about a year and the consistent deposits of patience and love revealed the loving essence I suspected. Consistency, patience, love and time rehabilitated my best furry friend.
Personal Work Example – More than 20 years ago, I took the position of Academic Dean for a 2-year Technical College (the school is no longer in business, so I can safely use this example.) It was clear to me almost immediately after my arrival, that my inherited faculty were battered and untrusting. They had an amazing work ethic, were genuine, competent and yet, guarded. After a lot of exploring and consistent check-ins with all of these wonderful educators, I learned that they were overworked, under-appreciated, and manipulated. I also realized I had quite a task ahead of me, that would take time and consistent gestures. And so I got to work to get to know each one of my 60 faculty and staff, kept a file on each of them so I could refer to their motivators, interests, strengths, and areas for development. There were many other tactics I employed and to make a long story short, let's fast forward to one moment when I held a bi-weekly meeting. One of the most moving and memorable times in my academic career was when this group of educators gave me a standing ovation during this regular meeting. After a few months of getting to know them and applying what I call the Platinum Rule, I incorporated a couple of other changes to show my appreciation and trust in this large group (the expression of trust was to grant them the authority to leave campus when they were not teaching or doing any type of admin, sort of remote work long before it was a concept!).
There are many ways to be vulnerable to generate trust. Consistency is also important when making deposits into the emotional bank account of trust. And it's also important to accept that building trust is not a cookie-cutter approach for all organizations, so it can be helpful to work with a trusted advisor or accountability partner to bounce ideas around.
The following chart is an example of what high and low trust might look like in an organization. If your organization suffers from any of the points on the low trust side, there will be an impact on employee engagement, retention and the bottom line. Not sure? We have a team assessment to find out. Think you have high trust? It's also great to find out and have the validation and if there are any deficiencies, there's a solution we can apply. And remember, trust is something that is earned by being vulnerable and consistent in how you act and communicate.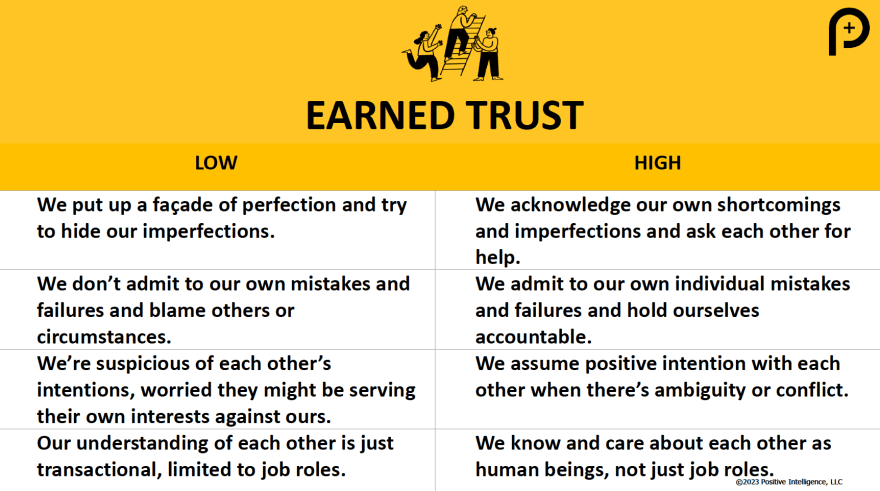 Did you know that there's a program for your team or organization to learn and master the Four Pillars of High-Powered Teams and Leadership? It begins with a 7-week foundational Positive Intelligence program and segues into a transformational experience for Leadership Teams and Executives.
If you'd like to learn how to re-energize your team and ignite inspiration, let's explore your challenges. Schedule your complimentary right-fit session here:

Special Report:
How to be a Resilient Leader in this Challenging World. PLUS More Free Resources!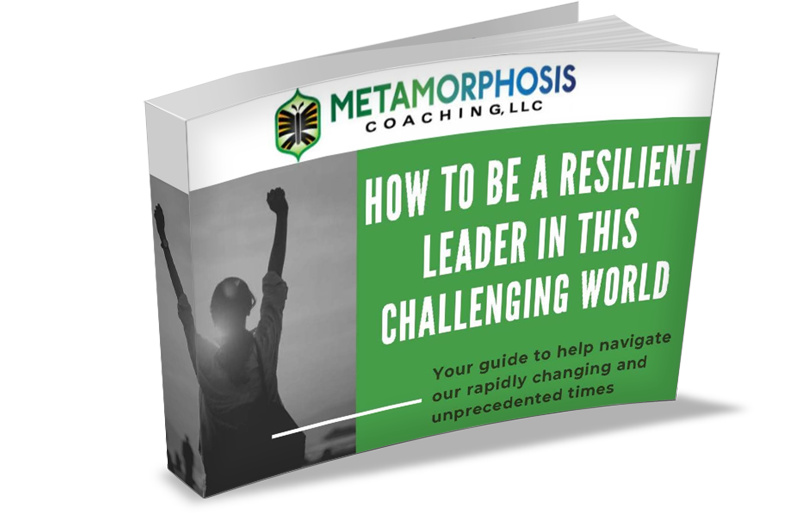 Sign up below and get your FREE "How to Be a Resilient Leader in This Challenging World" Report today!